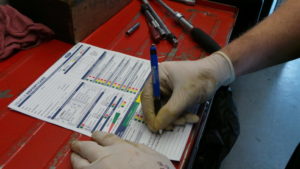 Preventive Maintenance starts with information.  The Gresham Quick Lane provides a Vehicle Report Card with every automotive service provided.  Our Certified & Trained Technicians thoroughly inspect your vehicle's key components and systems from top to bottom.  The in depth report helps you monitor your car's maintenance needs and upcoming expenses.   Here's what's included:
Tire Inspection
Brake Inspection
Coolant Check
Oil Level Check
Belts and Hoses Inspected
When you regularly visit the Quick Lane Tire and Auto Center you will appreciate the report card's simple red, yellow green scoring system that keeps you aware of your car's upcoming maintenance needs like tires, brakes, auto batteries and more.
If you are ever in need of a little extra help the Quick Lane also offers a credit card with an easy application process and extended special interest financing plans with low monthly payments.  For more information see any Quick Lane Service Advisor.