How do I know if I need a wheel alignment?
The roads in Oregon can be bumpy with unavoidable potholes, road construction and poor maintenance; it's just a fact of life.  Unfortunately all that bumping around can throw off the alignment of your car, causing it to pull to the right or the left instead of traveling in a straight line.  Overtime,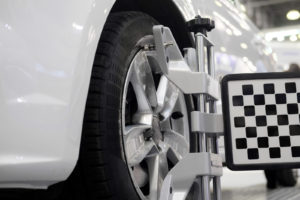 this can lead to uneven tire wear and reduce your fuel economy too.
If this sounds familiar you may need a wheel alignment.  Our certified mechanics can help restore your proper alignment and improve the handling of your vehicle.
How much does a wheel alignment cost?
Four Wheel Alignments start at $89.95
For more information contact any Gresham Quick Lane Service Adviser.