Need Brake Repair or Replacement?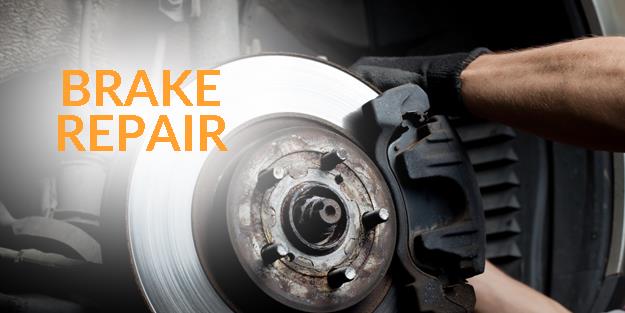 The Gresham Quick Lane provides brake repair and replacement on All Makes and All Models, Foreign and Domestic.
Get a $50 rebate by mail when you use the Quick Lane Credit Card on any Motorcraft Brake Service.  Ensuring that your brakes are in good working order especially before that epic summer road trip is essential to your safety.
BRAKE REPAIR
Whether you have drum brakes or disc brakes on your vehicle, the Gresham Quick Lane can inspect, repair or replace them while you wait with no appointment necessary.  Our experienced certified automotive technicians are trained to better identify and specify your cars needs.  Calipers, rotors, brake shoes and brake pads all have their roles to play when you press on the brakes, trust the properly trained technicians at the Gresham Quick Lane to ensure that you maintain, repair or replace the correct part the first time every time.  ABS (Anti-Locking Brake Systems) can be complicated, get the peace of mind you really want with the Gresham Quick Lane Service Team.
FREE BRAKE INSPECTIONS
It is generally recommended that your brakes are inspected every 12,000 miles or annually, whichever comes first.  At the Gresham Quick Lane every time you visit for an oil change you receive a complete vehicle inspection report card that clearly shows the status of your wearable items like: brakes, batteries, tires, etc.  Whether or not you visit for an oil change – FYI, your first one is HALF OFF – the Gresham Quick Lane will visually inspect your brakes as a complimentary service and review the signs you should be attentive to in order to identify failing brakes.  And if you are in need or brake repair or replacement our certified and trained brake technicians perform the repair while you wait without an appointment.  Ensuring that all repairs and replacements are within the guideline from your car's specific manufacturer is important.  Your vehicle is one of the largest investments of your life and the Gresham Quick Lane makes it easy to maintain and keep in perfect working order for less.
LIFETIME BRAKE PAD GUARANTEE
At the Gresham Quick Lane we strive to provide the best value and customer service in the industry and one we way do that is our Lifetime Brake Pad Guarantee.  This offer is eligible with Motorcraft and Omnicraft brake pads purchased after July 1st 2014.  This offer is nontransferable, so if you sell the car to someone else they are not eligible for redemption.  The guarantee requires the completion of any other necessary brake services like brake rotor service, if needed.  The replacement of Motorcraft or Omnicraft brake pads must be installed by the Gresham Quick Lane or by the Gresham Ford Service Center in order to be eligible.  Labor costs are not included in the guarantee, so you do have to pay for the labor to install the replacement pads.  Restrictions do apply so the best idea is to speak with your Gresham Quick Lane Service Adviser for complete details and qualifications.