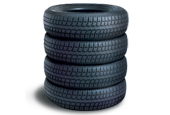 On these name brand tires: Goodyear, Dunlop, Continental, Pirelli, Hankook, Yokohama, and Bridgestone
Tires are expensive, no matter how you slice it.  And if you get cheap bargain tires they never seem to last as long.  A new AAA study shows that 1 out of three car owners don't have the money to spend on larger repairs or maintenance items like tires. Buy 4 Select Tires and Get a $140 Rebate by mail when you use the Quick Lane Credit Card.
The Gresham Quick Lane now offers a solution to help to spread out the expense of items like new tires with the Quick Lane Credit Card.  You can use it to buy things like automotive repairs, tires, extended service plans, loaner vehicles and more.  With the fast easy approval process any of the Gresham Quick Lane Advisers can get you approved fast.  And you can enjoy low monthly payments and available no interest for 12 months without interest.
Learn More About 12 Months No Interest Financing with the Quick Lane Credit Card
We know that no one has bottomless pockets and sometimes you need to prioritize the repairs and maintenance of your vehicle.  The Gresham Quick Lane Service Advisers tell you what repairs need to be completed now to ensure your safety and which can wait.  Giving you the peace of mind and balance you need when choosing an auto service center to trust.
*Quick Lane installed retail purchases only. Limit one redemption per customer. $70 tire rebate includes Michelin and BF Goodrich. Tire rebate by prepaid debit card or apply to an active Owner Advantage Rewards account. $70 credit card rebate by prepaid debit card only. Subject to credit approval. Complete purchase must be made on the Quick Lane Credit Card. Offer is valid at the Gresham Quick Lane from April 1st 2017 thru June 30th 2017. Submit rebate by July 31st 2017 by mail in rebate form or online at quicklane.com.  Cannot be combined with and other tire manufacturer-sponsored or Quick Lane Credit Card rebate offer. See your Gresham Quicklane Service Adviser for complete vehicle applications, rebate and account qualifications and details. Offer valid with this coupon. OFFER EXPIRES 6/30/2017.