Tires For Sale in Gresham, OR
Looking for Lowest Priced Tires Near Me? We have the Tire Specials you need.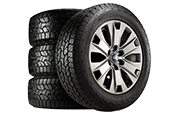 You have found them.  When you buy four select tires from one of the top 13 tire companies like Goodyear, Dunlop, General Tire, Pirelli, Bridegestone, Firestone and Yokohama you get up to $130 in rebates by mail when you use the Quick Lane Credit Card.
Before you say no about the credit card, know that it has 12 months same as cash.  The Gresham Quick Lane provides easy fast approvals too.  
This offer expires 08/31/2017 and is only valid on Gresham Quick Lane installed retail purchases only.  It is also limited to one redemption per customer.
$80 tire rebate on Pirelli Tires
$70 tire rebate on Bridestone Tires
$60 tire rebate on Goodyear, Dunlop, General Tire, Yokohama, BF Goodrich and Firestone Tires.
$40 tire rebate on Uniroyal tires
These are TIRE SPECIALS for all makes and models, foreign and domestic.  No matter car, truck or SUV, the Gresham Quicklane has the discounted tires you need.  Our prices will not be beat.  Get the same benefits as Costco and Les Schwab without the inflated price.
The rebate is mailed to you in the form of a pre-paid debit card only.  This offer is subject to credit approval.  In order to take advantage of this tire special rebate offer you need to complete a purchase before August 31st, 2017.  You must also submit the rebate request by September 30th 2017 by mail or online at quicklane.com.  This offer can not be combined with any other tire manifacturer sponsored or Quick Lane Credit card offer or rebate.  See any of the Gresham Quick Lane Service Advisers for applications, rebate or account details.